In today's digital age, where everything happens at our fingertips, having a mobile app for your business is a cost-effective and successful method to increase revenue. With mobile devices accounting for more than half of all internet traffic, e-commerce business owners must design user-friendly and intuitive e-commerce apps. We create a comprehensive e-commerce app that brings value to your company. Create an e-commerce app that is strong, intuitive, and AI-driven, with features that increase sales and revenue. Our committed team of top-tier e-commerce app developers uses cutting-edge technologies and designs to create apps that provide your consumers with a world-class shopping experience.

Applicorns is the leading e-commerce mobile app development company that creates powerful on-demand e-commerce apps to help your company go mobile. Our e-commerce application development services are dependable and of the highest possible quality. We build the best mobile applications for your online business with the help of a team of specialists. Mobile apps for e-commerce have grown in importance as a sales channel. We also assist businesses in expanding their reach and connecting with clients. As a result, e-commerce app development is in high demand in today's society. Our years of experience in mobile app development assure our customers that they will receive the best goods possible. We've established ourselves as one of the best e-commerce app developers.

The apps we created for our renowned clientele will demonstrate how capable we are at our jobs. We design applications that help our clients stay ahead of the curve by utilising cutting-edge technologies. Get in contact with us if you're seeking a reputable company to develop an e-commerce app for your company. We are one of India's leading eCommerce development companies, serving international and domestic clients. Our expertise is in creating and developing a user-friendly and high-conversion eCommerce website. We excel at designing eCommerce sites for businesses of all sizes, thanks to our knowledge of current trends and the use of cutting-edge technology.


Integrated E-commerce Applications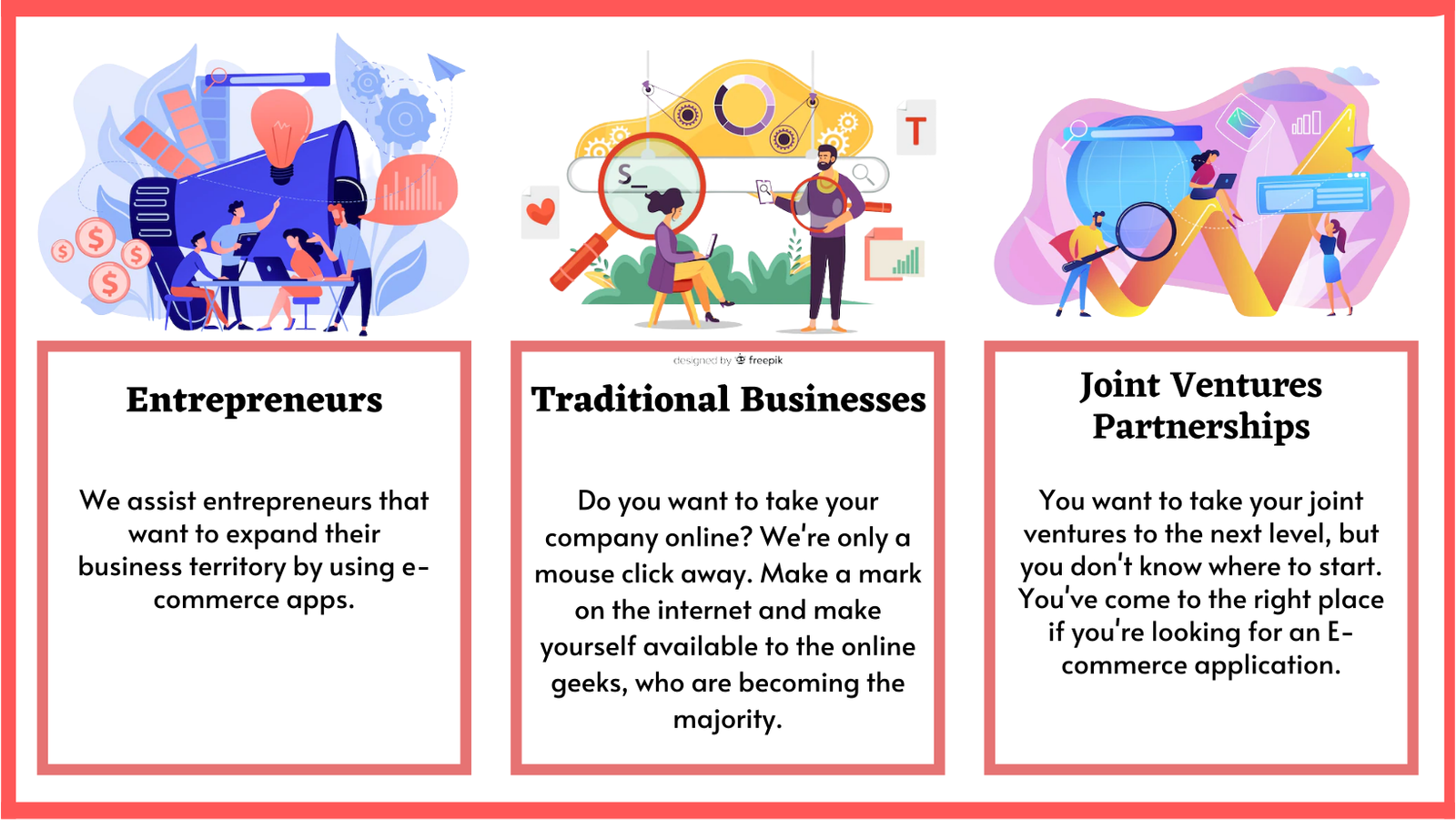 Minister delivers smooth mobile solutions for a variety of industries, and we strive to delight our customers so that they will return to us.
Improve the performance of your e-commerce store.
Our expert team produces the ideal blend of technology and the latest trends to
establish influential eCommerce stores.

Application Development for E-Commerce
We create feature-rich, scalable, and robust e-commerce stores. With our world-class e-commerce development services, we achieve desired results.

E-Commerce UI/UX Website Design
We have a committed team of expert designers who use their talents and knowledge to produce pixel-perfect and high-conversion website designs.

Marketplaces for business-to-business transactions
We create a smooth link between various merchants and customers by adopting multi-lingual and multi-currency marketplaces as an appropriate medium.

Maintenance & Support
Our skilled eCommerce development team monitors your online store's functionality and fixes faults to optimize performance.

Development of plugins and modules
Do you want to update your website to keep up with the times? We create innovative plugins and modules that will allow you to expand your online business in new ways.

Development of an Online Store
We had a desk in one of India's most prestigious web development firms. Our user-friendly designs and multichannel shopping portals are so appealing to customers that they will almost certainly provide you with desired results.


You are about to embark on an entirely new adventure. Let's get started!
We may be the ideal business partner for you. What makes us believe this? We put you one step ahead of your rivals. Our comprehensive e-commerce suite can improve your business operations and also provide the best client experience. Most significantly, we use an eCommerce store marketing plan to assist you in converting your target audience into customers and outperforming the competition.

OUR EXPERTISE
Applicorns provides a comprehensive range of E-commerce development services, including strategy, research, design, integrations, migrations, and next-generation online store construction. We also provide continuing support and maintenance, 24 hours a day, seven days a week, to ensure that your site is always open for business and generating cash.


The Most Important Advantages of Having An E-Commerce Mobile App
•Product browsing is faster and easier than on a website.
•Easy interaction way
•Getting in touch with customers is simple.
•Customers receive a hassle-free service.
•Option for quick and secure payment.
•Sales growth with online promotions.
•Global Presence
•Increase the number of customers
•Data Protection
•Scalable
•Experience across all channels
•Platform integration across many channels
•Daily Preparation
•IOS with customizations
•Increased conversion rate

Customized, High-Octane E-Commerce App Solutions will astound your customers.
Applicorns is one of India's leading e-commerce app development businesses, providing high-quality websites to clients all around. We are the chosen e-commerce website developer for small and medium businesses due to our in-depth knowledge of business nuances and extensive experience gained from serving organizations across industry verticals. We have an eagle eye for detail, the capacity to undertake a complete analysis of your company, and the ability to create high-performing websites that maximize your return on investment.
Our e-commerce professionals will work with you to develop bespoke website solutions and creative marketing strategies that will improve traffic, conversions, and income.

Our e-commerce platforms are feature-rich, adaptable, scalable, and surprisingly cost-effective. To provide the best service to our customers, we use the most up-to-date technology, tools, and work practices. Our cutting-edge e-commerce solutions will help you stay ahead of the competition, expand into new areas, and delight your present customers. Engage in meaningful conversations, respond to questions, recommendations, and concerns, and make multichannel communication more convenient.